Riots and demonstrations are common when government and authorities failed to provide justices. It may due because of the corruptions of the authorities itself and also because of controversial matter that failed to be solved by the respected leaders. People have the biggest power, when justice fails, people will show what true justice is. Here are the top 4 worst riots occurs in 2013:
BROOKLYN, NEW YORK
Time
March 2013
Reasons
The death of Kimani 'Kiki' Gray who was shot 7 times, 3 times at back by .38-caliber revolver from NYPD officers after he broke away from a group of suspicious young people. He was unarmed but failed to surrender after being warned to stop.
Results
Church Farm market was robbed by the mob, policemen was thrown with bricks, dozens were arrested.
Source
STOCKHOLM, SWEDEN
Time
19 May 2013 - 28 May 2013
Reasons
Shooting and killing of an elderly Portuguese expatriate armed with a small knife by police who broke into his apartment and trying to cover up the incident on 13 May. A political group in Husby, called as Megafonen then published a blog post describing the incident as violence due to racial hatred as the man is not 'white'
Results
Several buildings were damaged and vandalized, cars were burned and about 7 police were injured
Source
XIANJING, CHINA
Time
26 June 2013
Reasons
Clashes between Muslim ethnic group, Uighur and Han migrant workers. It is expected due to the flooding of the Han migrants in the region and their contributions towards the changes of the ethnic character and also jobs opportunity of the Uighur. Also suspected as revenged towards the death of two Uighur toy factory workers on June 25 2009.
Results
27 killed, 10 was shot by police while the protester killed nine policeman and eight civilians.
Source
CORDOBA, ARGENTINA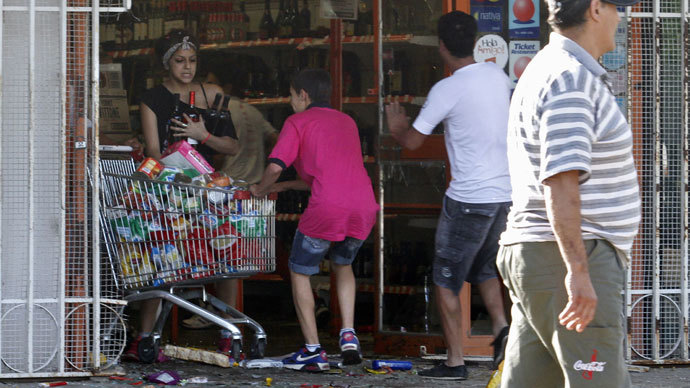 Time
3 December 2013
Reasons
Police goes on strike (refuse to work) due to their low pay
Results
Two people died, more than 130 were injured and dozens of supermarkets and shops ransacked during 24 hours of mayhem. 50 were detained.
Source